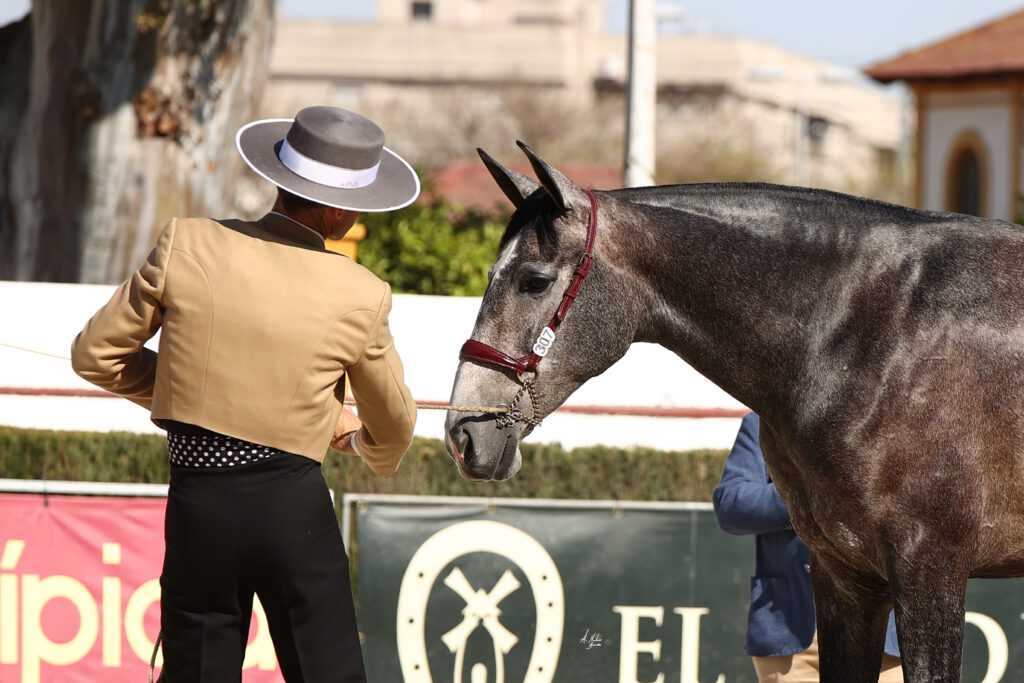 Date of birth: 01-02-2019

Breeder: YEGUADA LEZAMA LEGUIZAMÓN

Owner: YEGUADA LEZAMA LEGUIZAMÓN

Father: JAREÑO DE POVEDANO
Nenúfar JAP is a pretty dapple filly, with a nice conformation and a feminine and elegant beauty. Her three gaits are very good, with cadence and suspension, making her interesting as a future dressage mare. This filly of noble character has a stable dressage, knows how to work on the rope and on the walker. We will start with her dressage training soon.
This extraordinary filly unites two great genetic lines: Engañoso VI, Improvement Stallion in Morphological Aptitude, and Judio VII, Qualified Breeding Stock. Her mother, Reina MP, is a beautiful mare with a good morphology and spectacular movements, the granddaughter of the two-time Runner-up of Spain (SICAB 2005 and 2001), Judío VII. He has been a great stallion from Yeguada Vilaire who combines breed, movements and strength. In addition, he is the father of more than 370 children, many of whom have obtained important awards, such as Lanzado de Ymas and Jalapeño de Trujillo, both Young Champions of Spain, or Entrega Mater, World Champion. On his paternal side, Jareño de Povedano, is a great horse, very complete both in morphology and in functionality, competing in both disciplines with very good results. Jareño de Povedano is the son of the great Engañoso VI of the Yeguada Marín García, who brings very good movements to his offspring, an example we have in the multi-award-winning Romero de Trujillo (Young Recommended Breeder Stock for Dressage and Morphology, as well as Qualified Breeder Stock), two times World Champion (SICAB 2015 and 2019) and World Champion of the ANCCE Cup in 2018 and World Runner-up of the ANCCE Cup in 2017 and 2019.
Genealogical chart